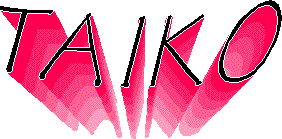 REKISHI [HISTORY]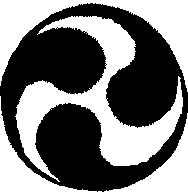 On our small planet the drum has been used for many things; to communicate, to celebrate, to invigorate the masses. The history of TAIKO , emboldens those traditions. It is the art and the instrument. The word is Japanese although it translates equivocably in all languages and means, at its basic form, drum. Taiko is derived from the character for ancient-taiko-meaning ancient times, and encompasses the character for large-dai, which most of these Japanese drums are. The KO, in Taiko is a figurative way of expressing the shape. It can be said to be derived from, kobu, which means, a swelling, or a plumpness. As in, kobutori, a buxom, or, plump woman. In the case of the drum, it refers to, being round, or portly, as in taiko no hara, a potbellied, or paunchy person.

A taiko evokes shudders to those who know of its resounding voice. It can be traced back centuries, predating many "western" percussive instruments which claim to be original. Taiko was introduced to Japan through Korea, by way of China, with the introduction of Buddhism from India, some time before 600 A.D., in the Nara period of Japan's history. Although an exact date cannot be pinpointed, scrolls and temple records show its usage for ceremonies.

It is told that the borders of a mura (village) could be marked by the farthest distance that the sound of the drum could travel. It would seem obvious that this would lead to carefully crafting drums which had a resounding voice. The skill of the player would also have a direct social and economic impact on his community. and their landholdings.

Its lineage can be seen in various drum styles throughout many continents. For example, the Nakir, the Bayan, the N'Tama, and the Changgo all physically and structurally resemble the taiko, and have similar ceremonial roots, where the drums have resounded for ceremony, peace, and conflict.

Today, circles and groups are using drums to energize a new era of personhood. International awareness of the ethos of taiko is reaching great heights, with the formation of taiko emsembles in communities and educational institutions around the world. The sounds of taiko touch the very fibre of ones psyche, conjuring up images known only to the individual, as in the "Shika (Deer) Dance", in Iwate, Ken (Prefecture), Japan. Or, the "Oni (Devil) Daiko Matsuri Dancers", at the "Yasurai Matsuri (Festival)", in Kyoto Shi (city). These historic performances are used to connect people with their fears and strengths, to delight in and overcome any obstacle. It is said that the beating of the drum resembles the beating of the heart. Historically, the drumbeat gave farmers the fortitude to go out in all kinds of weather to do their job for their clan. Once you experience a taiko performance you will forevermore appreciate thunder.

The International Taiko WebRing is now accepting sites into the growing ring of world taiko organizations. Submit your taiko site to join. Click below to view some international taiko links. Sanseiyonseikai is the Japanese group in Roseville, Mn. which I am working with. The kids are very involved in authentic dance and drumming. Click on Sounds for authentic drum audio to listen to and study. "O tanoshimi ni".
| | | | | | |
| --- | --- | --- | --- | --- | --- |
| Main Page | Taiko Ring | Taiko Links | Sounds | Sanseikai | EXIT |
| | | | | | |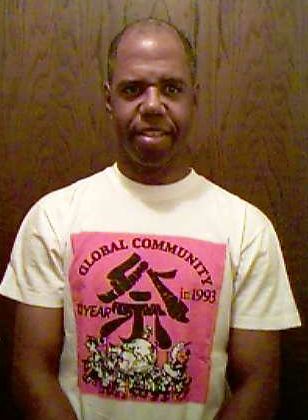 The first time I heard TAIKO, when I first toured Japan in February of 1979, I was awestruck. The power, sensitivity, and calisthetics of the performers was incredible. Though I had played drums for so many years, and considered myself a percussionist, I knew I would not be complete until I donned the Happi of the Shudan and took my place at the Miya Daiko. So, returning to Japan I was able to join the fine, IKAZUCHI Taiko Shudan, in Osaka, and, intern at the Bando Taiko Factory, in Osaka, assisting in making their fine drums. Upon returning to America, in 1994, I was a Graduate Assistant at Moorhead State University, Mn, under Dr. David P. Eyler, Professor of Percussion. There, in Sept. 1994, I formed the TAIKO SHUDAN. The first Japanese Taiko Ensemble in the University system in Minnesota. This ethnic drumming performing group was well received, playing at city and community functions, and at university sponsored ethnic and cultural events. Now I teach taiko to the members of Sanseiyonseikai, a Japanese dance group directed by Linda Hashimoto, in Roseville, MN. Members, young and old, are working on traditional matsuri, (festival) taiko pieces and bon odori, (lantern festival dance) accompaniment taiko. The group performs Japanese dance and taiko in the St. Paul/Minneapolis, MN. area.

Kenne Thomas
Author, Percussionist, Taiko and World Music Instructor

Configure your plug-in to hear a short sample of taiko pieces, created by Ken Thomas. You may download them for practice. Minasan, Taiko O hiku zo(play) !

Bara Bushi - This is the theme for the Sanseiyonseikai, Japanese Dance and Taiko group in Roseville, Mn., composed by Ken Thomas.

Miyake Daiko - Traditional taiko piece, played by almost all taiko groups in Japan. This is a version in straight duple meter for beginning taiko groups, arr. by K. Thomas.
Here are some taiko sounds for you to listen to and "play" at home. Just use your mouse as the 'bachi'(stick).

Taiko. The resonance of a taiko, as the sound comes to you when you play, can be warm and beautiful. It also can be thunderous, as heard on numerous recordings by KODO and Ondekoza. Please visit the taiko links page for more on these and other fine groups.

Gaku Daiko. A small taiko, with 2 tacked head, used for festivals. They are often used to simulate the large taiko played in gagaku. During festivals they are played in large numbers with accompanying bells and clappers.

Shime Daiko. This is a rope tension drum with cow skin heads.This particular drum was made in the Meiji period, 1850-1900, and has those markings on the inner walls. The body is of lacquered Zelkova wood. I purchased this drum in Osaka, Japan in 1993. It was re-headed at the Bando Taiko factory, Osaka. Shime daiko are used frequently in Nohgaku (Japanese theater) where the drummers are actually involved with the performance doing kakegoe (audible shouts). This kind also is played to begin Kabuki and SUMO matches.

---


This International Taiko Webring site is owned by Kenne Thomas.
| Previous | Next | Random | Taiko Ring Index | Join Taiko Ring |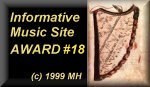 copyright © 1997-2003 - OFFICE KZ